Please use the contact list below if you are looking for a quilting group in your local area. All the groups have different meeting times, costs, activities etc. They are listed here as 'groups who are affilitated with SA Quilters for insurance and other benefits'. Some affiliate groups have elected not to be listed.
---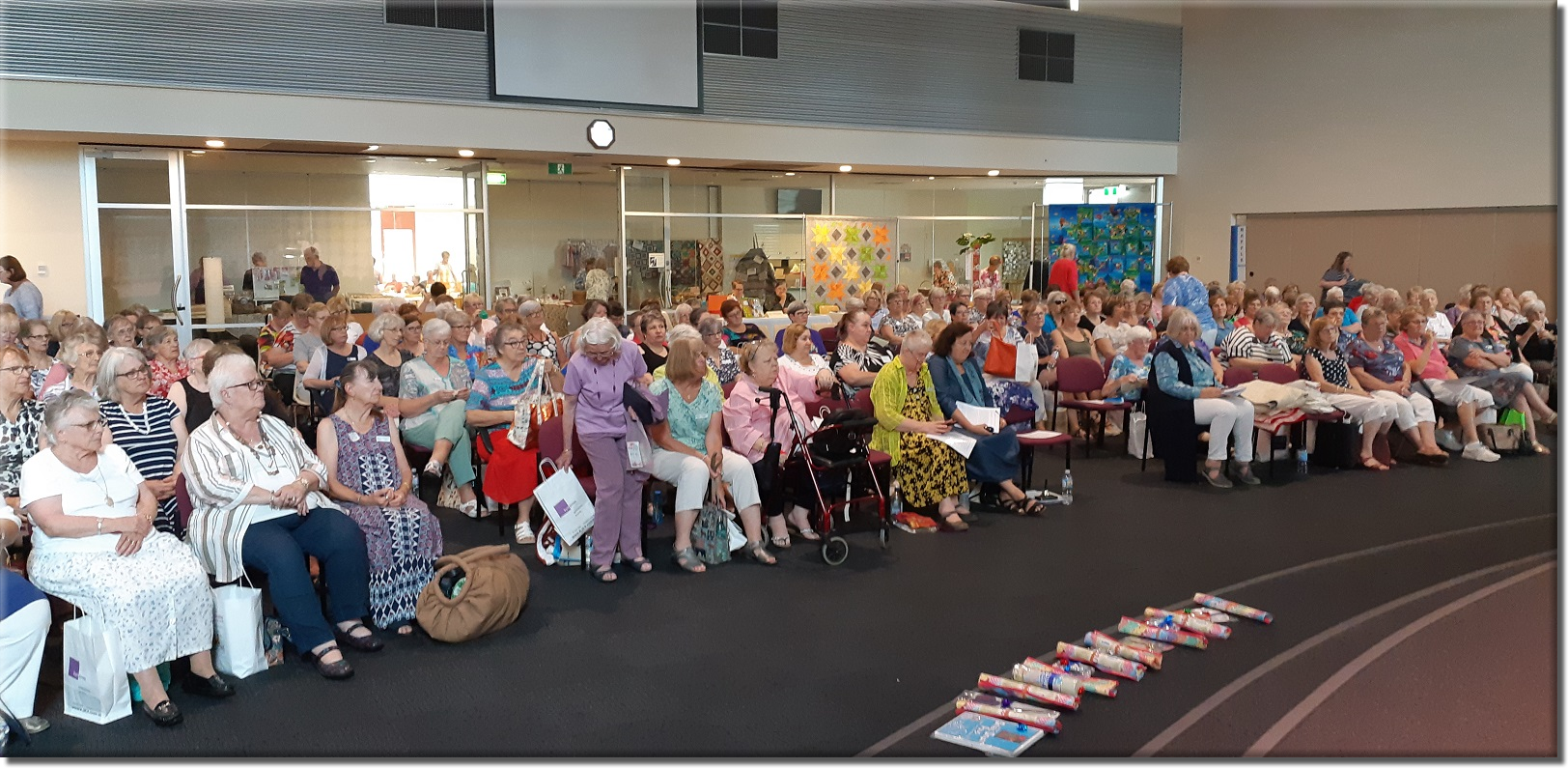 Affiliated Group Members enjoy Country Forum.
Click on the + sign for the drop-down Affiliated Groups contact list which is listed in location order for your convenience.
| Meeting place | Group | Name | Phone |
| --- | --- | --- | --- |
| Aberfoyle Park | Aberfoyle Hub Quilters | Karen Salman | 8381 3668 |
| Aldgate | Piccadily Quilters | Roma Bennetts | 0438 225 290 |
| Aldinga | Aldinga Quilters | Marianne Stafford | 0428 354 509 |
| Ardrossan | Ardrossan Sit and Sew | Wendy Hicks | 0448 853 742 |
| Athelstone | Campbelltown Quilters | Vicky Packer | 0413 858 346 |
| Arno Bay | Arno Bay Quilters | Lorraine Butcher | 0418 817 580 |
| Barmera | Barmera Lake Bonney Quilters | Julie Plush | 0438 837 307 |
| Blackwood | Stitchers in the Hills | Rose Howard | 8270 1575 |
| Bordertown | Gum Tree Quilters | Beth Ortlepp | 0408 849 545 |
| Brighton | Marion Quilters Circle | Barb Percival | 0408 842 087 |
| Broken Hill | Silver City Quilters | Jo Kells | 0419 839 935 |
| Booborowie | Burra Quilters | Daphne Lines | 0428 814 755 |
| Camden Park | Camden Quilters | Margaret Grigg | 8381 1348 |
| Christie Downs | Onkaparinga Quilters | Jill Cook | 8382 0047 |
| Clare | Clare Quilters | Maria Barnes | 0484 372 105 |
| Cleve | Cleve Country Quilters | Carmel Baxter | 0428 350 584 |
| Coromandel Valley | Coromandel Valley Quilters | Kate Seinor | 0412 429 542 |
| Cummins | Cummins Stitchers | Sandy Jones | 8676 2208 |
| Enfield | Enfield Quilters | Margaret Maguire | 0438 722 250 |
| Gawler | Shared Inspirations | Diane Borgo | 0416 061 380 |
| Gawler | Gawler Quilting Circle | Anne Webb | 0438 114 787 |
| Gawler South | Zion Quilters | Annette Bissai | 8522 0124 |
| Glenelg | Glenelg Quilters | Debbie Anderson | 0427 740 526 |
| Golden Grove | Journey Quilters | Sue Bailey | 0402 900 048 |
| Golden Grove | Tea Tree Gully Quilters | Sandra McAllan | 0488 051 360 |
| Goolwa | Goolwa Patchers | Lorraine Jones | 0417 874 527 |
| Hilton | Orange Tree Quilters | Eve Bologiannis | 0418 818 573 |
| Inman Valley | Inman Quilters | Carolyn Biggs | 0409 676 027 |
| Jamestown | Jamestown Quilters | Sharon Hagger | 0429 641 027 |
| Kadina | Northern Yorke Peninsula Quilters | Fran Halls | 0488 616 747 |
| Kapunda | Kapunda Quilters | Liz Altus | 0407 662 635 |
| Kilburn | Chicago Quilters of Kilburn | Judy Wiggins | 0437 211 267 |
| Laura | Sew Together | Robyn Johnson | 0404 467 080 |
| Loxton | Loxton Quilters | Marilyn Tonkin | 8584 5055 |
| Magill | Magill Quilters | Claire Blunt | 0434 074 062 |
| Malvern | Stitching Matters | Erica Bartlett | 0417 936 433 |
| Mannum | Shared Stitches of Mannum | Ruth Symonds | 0427 881 991 |
| Marion | Marion Quilters Circle | Barb Percival | 0408 842 087 |
| McLaren Vale | McLaren Vale Patchworkers | Jo Reardon | 0418 402 979 |
| McLaren Vale | Southern Belles Quilters | Julie Scott | 0417 828 493 |
| McLaren Vale | Vintage Quilters | Linda Haigh | 0407 832 995 |
| Melrose | Motley Quilters | Karen Kitto | 0427 042 997 |
| Melrose | Mount Remarkable Quilters | Gweneth McCallum | 8666 2062 |
| Minlaton | Golden Harvest Quilters | Fiona Bilney | 0427 782 459 |
| Modbury Heights | Sewcial Sit 'n' Stitch | Helen Campbell | 0411 417 087 |
| Modbury West | Golden Gully Quilters | Leonie Herring | 0409 513 675 |
| Mount Gambier | Pine Tree Quilters | Lyn Sparks | 0448 153 852 |
| Murray Bridge | Bridge Patches and Quilters | Val Towill | 0408 820 997 |
| Murray Bridge | Woods Point Quilters | Sue Job | 0410 968 437 |
| Naracoorte | Naracoorte Mill Quilters | Louise O'Shaughnessy | 0428 621 330 |
| Peterborough | Peterborough Patchworkers | Judith Evans | 0408 220 248 |
| Plympton | Saintly Stitchers | Anna Kelly | 0402 368 851 |
| Plympton | Quilting on the Square | Rachelle Denneny | 0405 041 311 |
| Pooraka | Montague Farm Quilters | Ruth Ward | 0437 522 711 |
| Port Augusta | Port Augusta Quilters Guild | Robyn Franke | 0409 099 070 |
| Port Broughton | Broughton Rainbow Quilters | Sandra Atkins | 0418 890 282 |
| Port Elliot | Port Elliot Patchworkers | Beryl Smith | 0488 136 141 |
| Port Lincoln | Port Lincoln Quilters Guild Inc | Nola Samuel | 0428 821 089 |
| Port Pirie | Pirie Quilters | Naomi Bennier | 0407 712 640 |
| Riverton | Riverton Quilters | Bronwyn Palmer | 8847 2750 |
| Renmark | Renmark Evening Star Quilters | Kylie Duncan | 419 815 688 |
| Renmark | Renmark Patchwork Quilters | Glenda Edwards | 0402 453 510 |
| Reynella | Reynella Craft Group | Rosalyn Bolton | 0403 796 573 |
| Salisbury | Salisbury Stitchers | Alexa Little | 0427 971 789 |
| Seaford | Gallery Quilters | Pat Barkway | 0419 857 248 |
| Semaphore Park | Bower Cottages Quilters | Heather Ridley | 0450 537 852 |
| Semaphore Park | Warm Hart Quilters | Carolyn Andrews | 0412 473 244 |
| South Plympton | After Dark Quilters | Heather Ford | 0438 272 408 |
| Stockport | Stockport Kindred Quilters | Judith Gregory | 0429 686 054 |
| Strathalbyn | Strathalbyn Stitchers | Diane Lunt | 0433 755 870 |
| Tailem Bend | Masonic Quilters & Craft Group | Julie Gordon | 0422 213 712 |
| Tanunda | Vine Patch Quilters | Kathleen Clarke | 0409 117 262 |
| Tumby Bay | Tumby Bay Quilting Group | Jane Charlton | 0429 880 042 |
| Victor Harbor | Fleurieu Quilters | Moira Pearce | 0409 886 096 |
| Victor Harbor | Sew What's | Margaret Borlase | 0409 328 720 |
| Waikerie | Waikerie Piecemakers | Nay Campbell | 0402 006 769 |
| West Lakes | Nifty Nine Patchers | Sandy Jones | 0422 146 016 |
| Whyalla | Quilters Guild of Whyalla | Ruth vincent | 0412 670 098 |
| Williamstown | Williamstown Patchers | Lexley Reinke | 0411 315 166 |
| Woodside | Woodpatch Quilters | Annette Pethick | 0455 995 385 |
| Wynn Vale | Jubilee Quilters | Sharon Anderson | 0414 619 828 |
| Wynn Vale | Wynn Vale Quilters | Robyn Hales | 0416 265 389 |