SPACE
SPACE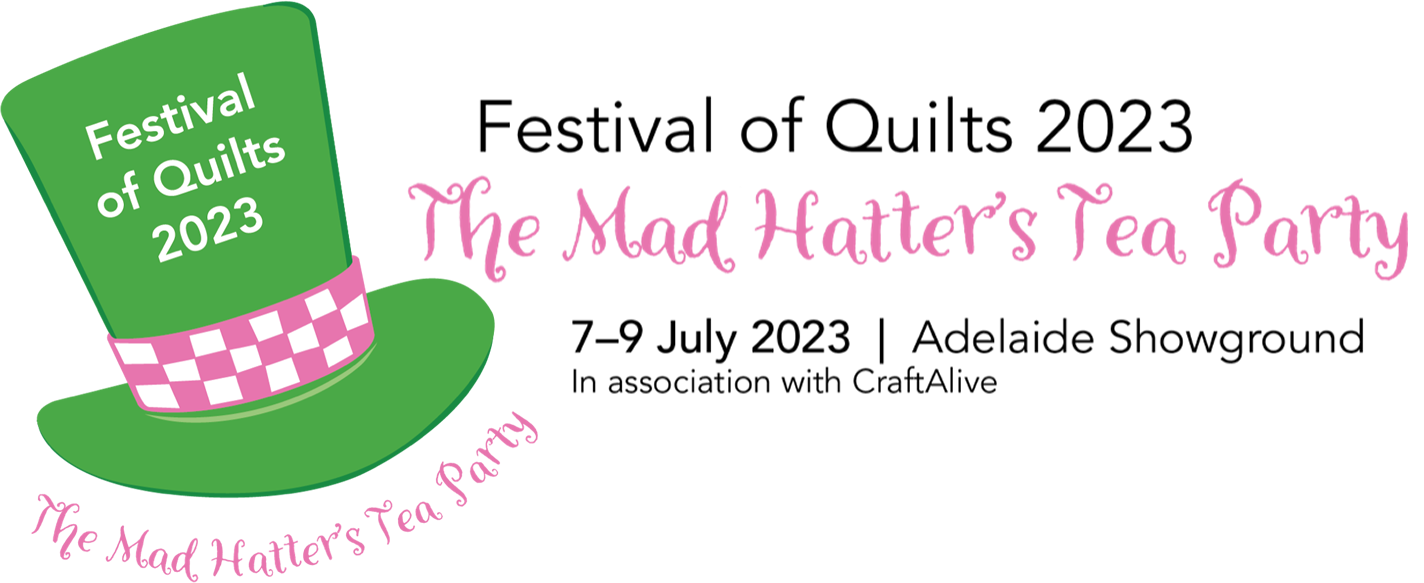 Important Dates
Entries Open:
See below for the link to enter your quilt
Entries Close
Friday, 2nd June 2023
"Project" Delivery:
Last delivery at June Members' meeting on Thursday, 1st June 2023
Quilt Drop off:
Wednesday, 21st June 2023 at Sit and Sew, Vermont Uniting Church
Tuesday, 4th July 2023 at Adelaide showgrounds (preferred location)
Quilt Collection:
Sunday, 9th July, 5:30-6:30pm at Adelaide Showgrounds
xxx


xxx


xxx


xxx


Buy your CraftAlive tickets now:  Quote code SAQ2023
$15 for all members of SAQ (Membership card will need to be shown upon entry.)
Link to the CraftAlive web site here.
Entries
The portal is open for entries into the 2023 Festival, click on the ENTRY link.
2023 Festival of Quilts Handbook
Click on 2023 Festival of Quilts Handbook link to download the document to your computer.
All categories remain the same as 2022, however, please note that if someone else quilts your entry, it MUST go into a 2 person or collaborative category.
The Festival "Challenge – Mad Hatters Tea Party"
Create a quilt no larger thatn 100cm x 100cm according to the theme.
The Project – Teapots
Like our past projects (puzzle piece, denim pocket) we ask that you create something featuring teapots. It may be a placemat, or a teapot shape, and anything in between.
The maximum size is 40cm x 30cm. Deliver to Members' meetings, so don't forget to put your name on the back, so that we can return them to you.
Your Festival of Quilts Committee:
Christa Mano – Secretary
Jan Goulter – Raffle
Margaret Hurrell – Entries Assistant
Jill Iveson – Frames Manager
Jenny Kempson – Publicity
Carmel Loughry – Special Exhibits/Demonstrations
Ann Shuttleworth – Hospitality/Sponsorship
Festival of Quilts Raffle Launch
We encourage SA Quilters Affiliated Groups to take raffle books to sell tickets to support Catherine House.  Ticket books can be collected at any SA Quilters meeting or Sit and Sew.  For any information please phone Assistant Treasurer, Jan Goulter, on 0438 811 684 anytime.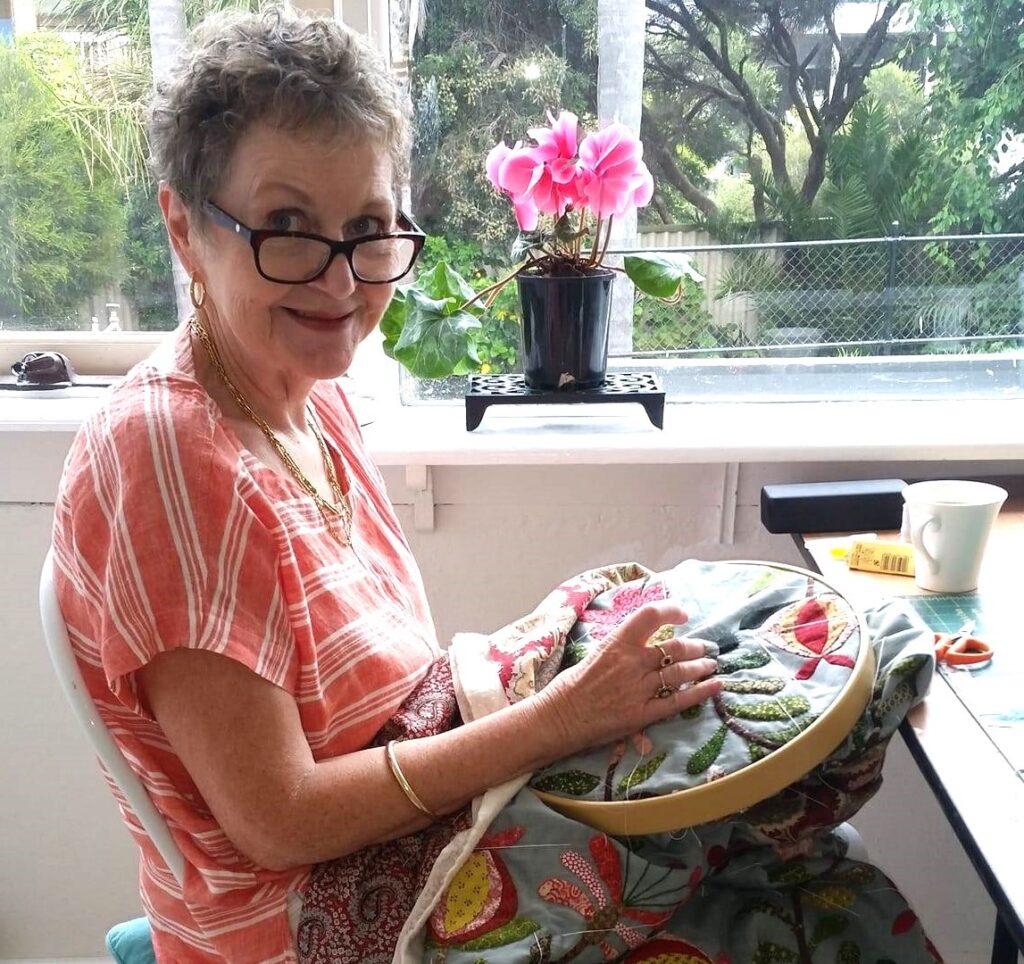 MEET WENDY WHELLUM
2023 QUILTER IN RESIDENCE
Wendy first started quilting in 1991 with a "quilt in a day" project that took a lot longer than was originally intended.
Since that time Wendy has not stopped quilting and has won many awards for her hand pieced and hand quilted quilts.
Wendy is a quilt designer inspired by antique quilts giving them a modern twist and using beautiful new fabrics and colours.
Wendy has designed and published quilt patterns for Australian Patchwork and Quilting magazine and other publications for over ten years.
She is a very industrious and prolific quilter whose house is absolutely full of quilts. They decorate the walls, cover all the beds, hang over chairs, over sofas, decorate tables and she also has another two cupboards full of them.
Her beautiful sunlit sewing room features three projects on the go that look equally beautiful.  There is no doubt that we will see them in Festival of Quilts this year!
Unfortunately there is not room here to show very many of her beautiful quilts.
What next?
Apart from the three quilts already in progress Wendy would like to increase her skill at machine applique and machine quilting.
Also she is planning to make a quilted jacket for winter, so we look forward to seeing her new creations.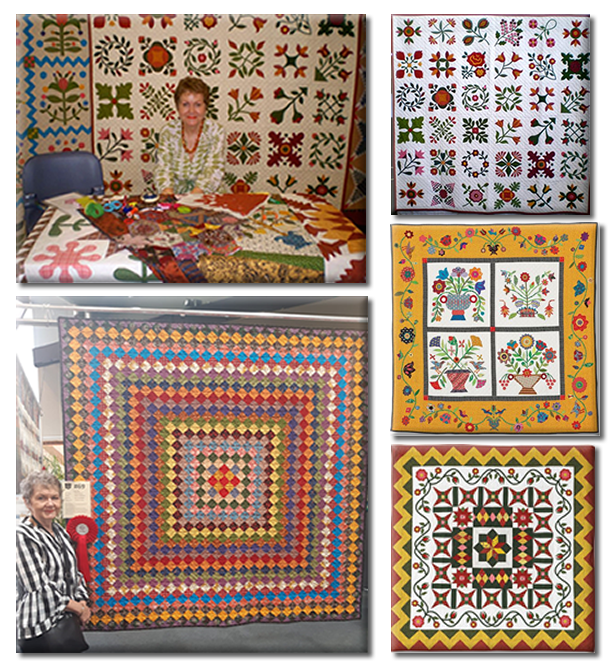 Congratulations Chris O'Brien. Runner up Best of Show for 2022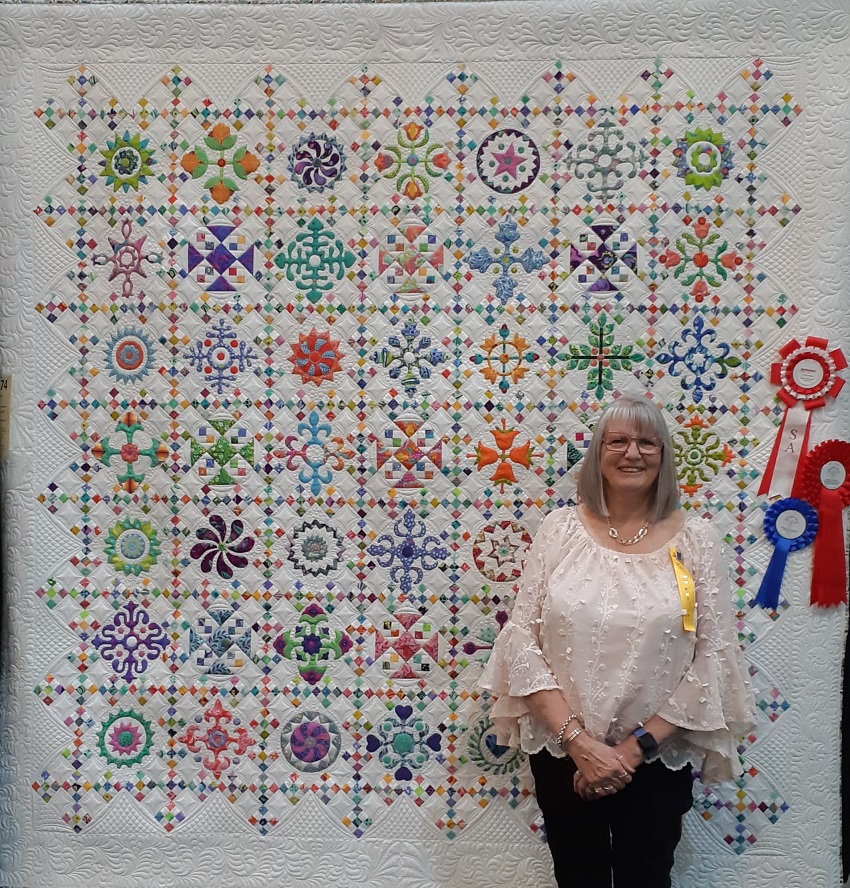 Chris O'Brien's beautiful quilt Afternoon Delight, won Runner Up Best of Show at the 2022 Adelaide Festival of Quilts.
Congratulations Adriana Newton – Best of Show for 2022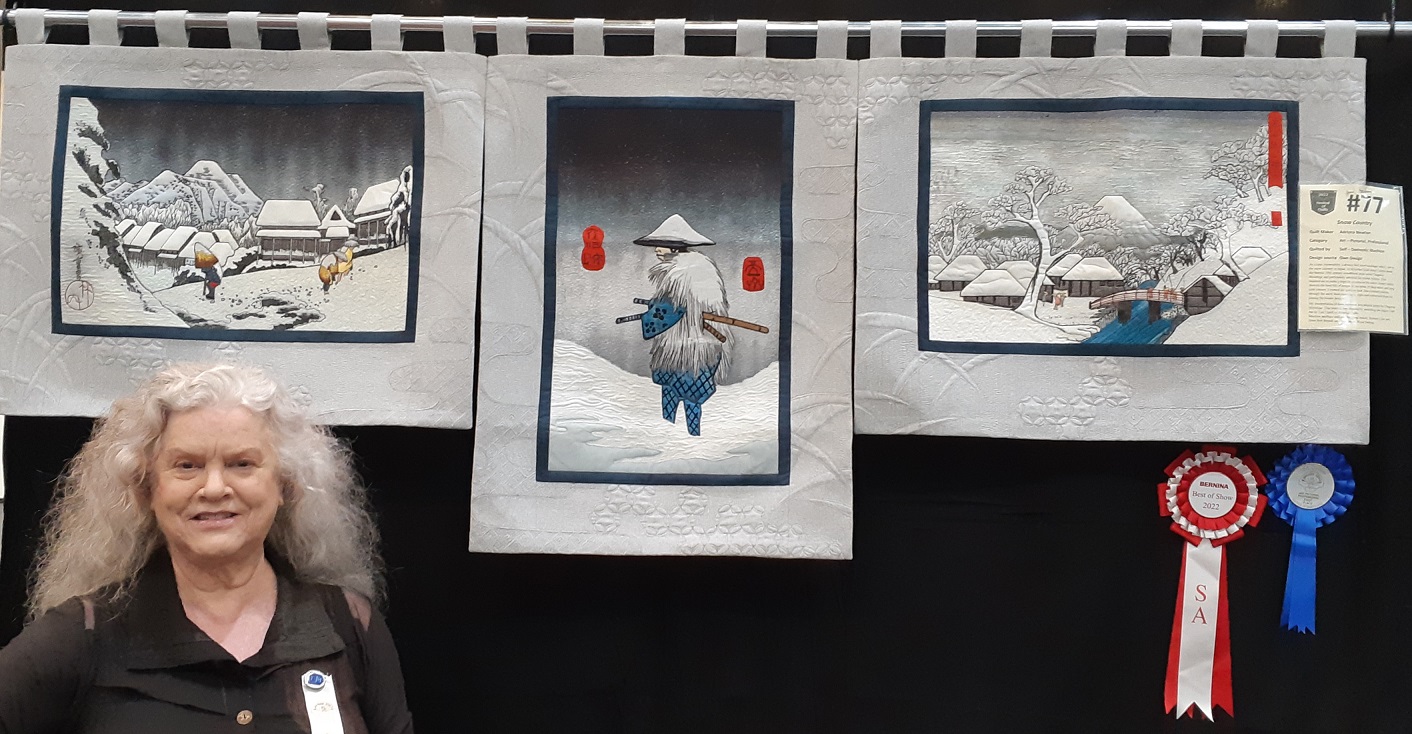 Adriana Newton's beautiful quilt Snow Country, won Best of Show at the 2022 Adelaide Festival of Quilts.
Provenance and Labels
Download a detailed article written by Heather Ford on Provenance and Labels here.
---
Quilt Carry Bag Pattern
Click here for instructions to make a large quilt carry bag pattern, for a quilt which is too large for the SA Quilters quilt bags.
---
SPONSORS
Winners are encouraged to write and thank their sponsors. Please utilise their services whenever you can.
GALLERIES
Enjoy a slideshow presentation of previous Festival of Quilts winners.