---
In June 1994, the Quilters' Guild of South Australia (SA Quilters) held it's first 'non-traditional' juried exhibition 'Dare to Differ' at Megaw & Hogg as part of the celebration of the tenth year of the Guild.
Instigated by a small group of members interested in promoting and exhibiting contemporary quilting in South Australia, it followed the model of the New South Wales exhibition held at Manly Art Gallery annually. The title was used to steer people away from the traditional quilt and extend their horizons, leaning more to the visual arts.
First Committee: Barbara Mullan, Neta Lewis, Gennie Quinn, Pat Hagan, Deb Nicol, Helen Brook, Lyn Uppill, Quenby Sinclair. This was followed in July 1995 by Dare to Differ- Another Dimension at David Jones' Gallery. Committee: Gennie Quinn, Deb Nicol, Neta Lewis, Barbara Mullan
It was decided to hold this event in the off year to the SA Quilters biennial exhibition, which is now held annually. From 1997, Prospect Gallery became the exhibition venue followed by Gallery M at Marion in 2011.
To broaden the outlook of SA Quilters, the invitation to participate was extended to quilters across Australia in 1999.
Suzanne Gummow assumed the role of convenor from 1999 to 2022 with assistance from Julie Haddrick and various SA Quilters members over the years.
In 2023 Sue Knuckey took on the role of convenor. Sue will plan the Dare to Differ Exhibition for 2025.
The 2022 Exhibition was opened by SA Quilters President, Heather Ford, on 2nd September 2022. The winning entry was "At Least I can see the Stars" by Bronwyn Cant. Congratulations Bronwyn on a beautiful piece of textile art.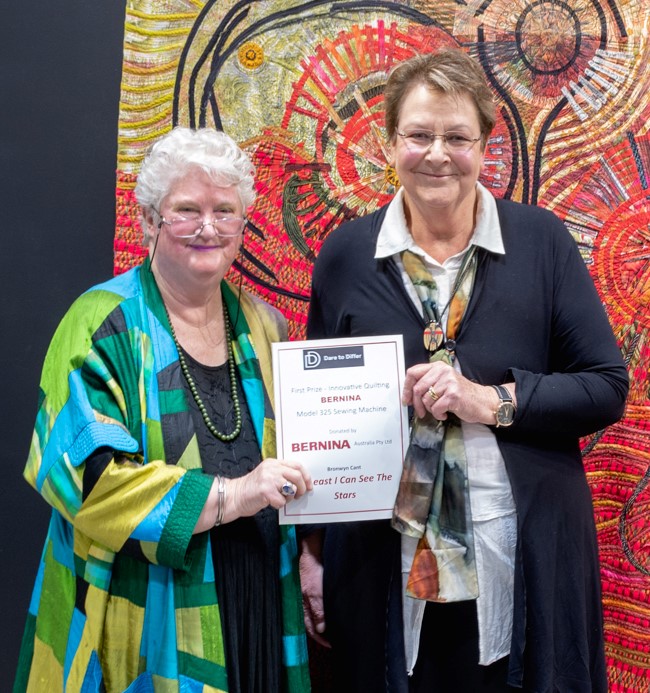 Dare to Differ Convenor, Suzanne Gummow, with winner Bronwyn Cant
Many thanks to the 2022 Dare to Differ Sponsors, SA Quilters, Bernina Australia, Gallery M, Cynthia's Ark and Quilters Quarters.
Click here to view a slideshow of some of the artworks in the Dare to Differ 2022 Exhibition.
So what is "Dare to Differ"?
A small group came together in South Australia more than 25 years ago with the aim of promoting and showcasing contemporary art quilts in this state. The first exhibition was held at the Megaw and Hogg 1994 and then it has been held at Prospect Gallery and recently at Gallery M, Marion.  "Dare to Differ" exhibitions are held bi-annually. The interpretation of the quilts is left to the quilt maker.  Think about what "Dare to Differ" means to you. Contemporary quilt makers are encouraged to extend their horizons, leaning more to the Visual Arts and "Dare to Differ".
The exhibition is open to ALL quilt makers within Australia. We have hoped that by opening entries to interstate contemporary quilt makers we give South Australian quilt makers and the general public the opportunity to view a very high standard exhibition of contemporary art quilts.
A definition of a quilt for this exhibition is that it must be predominantly fibre, and be composed of a least two distinct layers, stitched together throughout the quilt. It must be innovative, original and of course meet the criteria of the title "Dare to Differ – 2022". Entries will be preselected from photos – one of the whole quilt and one detail. The photos MUST be of an excellent standard – clear and precise. The selection process is done by two or more contemporary quilt artists with an international standing.
One of the most important things when entering any exhibition is that one needs to read and follow ALL the requirements accurately that appear on the entry form.
The exhibitions in the past have been exciting, diverse and of an extremely high standard. It is very important that we continue to give the opportunity to the South Australian public (including all our quilt makers) to view such an exhibition held here in Adelaide.
Contact me if you need any more information regarding the exhibition.
Suzanne Gummow
Convenor of the "Dare to Differ"
Email:  SAQ Secretary